Dairy Intolerance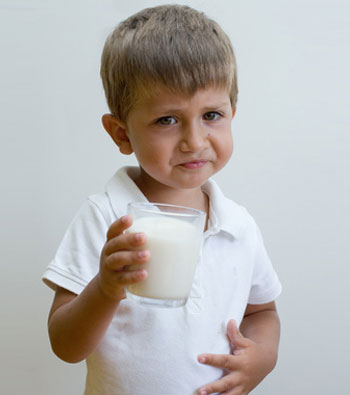 Dairy intolerance is a food allergy in which an individual has an adverse immune reaction to certain proteins present in milk and other dairy products and is often called Milk Allergy. The allergy results from an adverse reaction to dairy proteins, particularly casein, a protein found in cow's milk. As a result the problem is usually only exhibited towards cow's milk, though allergic reactions to other forms of milk have also been recorded. This presents a particular problem in India, where dairy and derivative products form a considerable part of an individual's diet.
Dairy intolerance is different from lactose intolerance, which occurs when the body fails to produce the enzyme lactase in sufficient quantity. This enzyme is essential to break down and begin the digestion of lactose. Lactose intolerance is widespread and considered normal in adults and its effects are rarely serious. Dairy intolerance, on the other hand, can cause several different kinds of reactions, the most dangerous of them being anaphylaxis.
Some of the common reactions and indication of the ailment are bloating, indigestion, constipation, nausea, fatigue, chest infection or pain, headaches, vomiting, etc. Anaphylaxis, however, can be fatal in extreme cases. The onset of anaphylaxis can take anywhere from minutes to a few hours and is characterised by itchy rashes, severe swelling in the face, neck and throat and sometimes in the limbs and low blood pressure. Acute reactions can cause death due to asphyxiation or shock.
Milk intolerance is easily managed by avoiding all dairy and derivative products, but as the product contains many essential nutrients which are vital in children and often recommended for adults as well. Since many of the symptoms are often associated with other illnesses, one may be completely oblivious of the potential dangers of a severe allergic reaction. If any symptoms have been experienced in the past, it is essential to determine if they are indeed prone to the allergy before including it in their regular diet.
The ImuPro tests check an individual's intolerance to milk proteins along with a large number of other eatables across various food categories. If the ailment is discovered, the results will also suggest other alternatives to replace the nutrients lost from removing dairy and derivative products from one's diet. Many potential alternatives like soy milk and sheep or goat's milk exist, but do not replace all of the essential nutrients, especially in the diets of children. Our suggested alternatives will take care of all shortfalls and enable planning a complete and nutritious diet.